"I wanted to keep the wedding traditional, which included a catholic church ceremony, canapes on arrival with champagne, sit down 3 course meal followed by a live band and an evening reception."
The couple: Amy & Lewis Saunt
Length of engagement: 12 months | Wedding date: 26th May 2017
Wedding location: La Finca Golf Hotel & Spa, Spain
Photographer: Lauren Victoria Gibson
Spanish wedding planner: Lyndyloo in Spain
We met… Lewis and myself  met each other on a night out in our local town. For our first date we went to the Christmas markets in Manchester which was a very special night and we've been together ever since.
Our proposal… We went away for Christmas to Mexico to an amazing hotel resort with Lewis's family.  It was Christmas Eve and we were walking over a candle lit bridge and when I turned around Lewis had stopped. He was on one knee and asked me to marry him, I burst out crying as I couldn't believe it but the shock soon turned into happiness.
What our bridal party wore… The bridesmaids included my sister, Lewis's sister and three of my best friends. I wanted to keep their dresses within the theme of the wedding, so therefore they wore long elegant off-the-shoulder dresses from the designer Kelsey Rose in Sea Mist, which we also bought from Amelia's Bridal shop.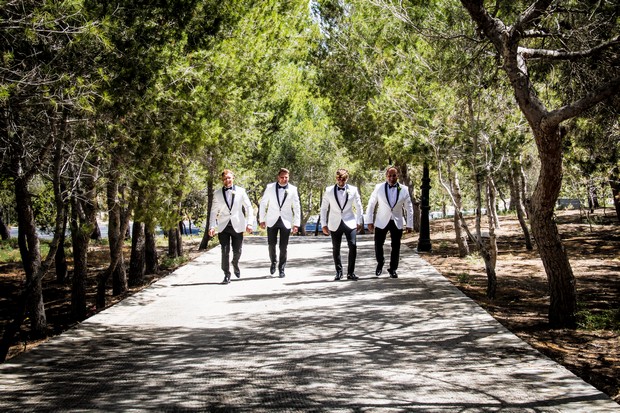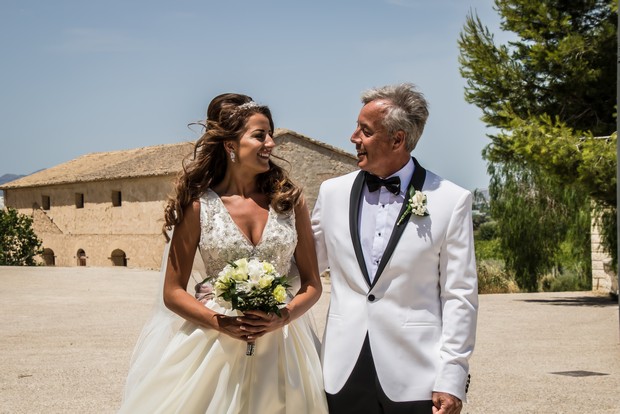 My dress… My dress was from Amelia's Bridal shop in Clitheroe. This was the first wedding shop I visited and the first dress I tried on. I did try on a variety of styles and visited numerous shops, but none compared to the first dress. The designer of the dress is Sottero & Midgley.
Our ceremony… was held at La Ermita Church, Algorfa Town. The priest although Spanish spoke English, he conducted the ceremony with a sense of humour.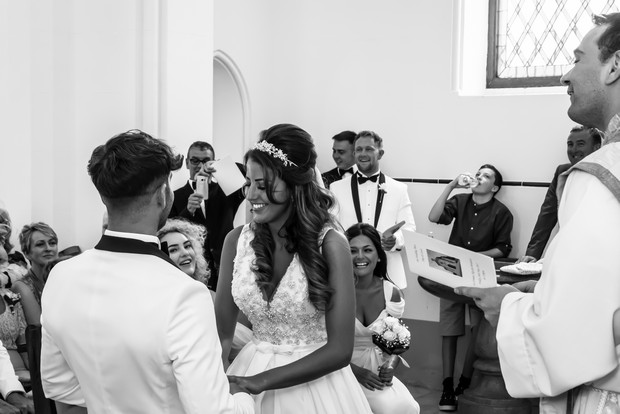 My hair and make up… I decided to keep my hair long with flowing loose curls, half pinned up to fit my long veil, adorned with Swarovski crystals. I did my make-up myself as I wanted a natural, bronzed glowy look. I researched lots of different products to use on the wedding day especially in the heat as I needed my make up to stay on all day.
His suit… The groom, best man, father of the bride, father of the groom and groomsmen wore cream tuxedo suits which were bought from Zara finished off with black bow ties and black cummerbunds.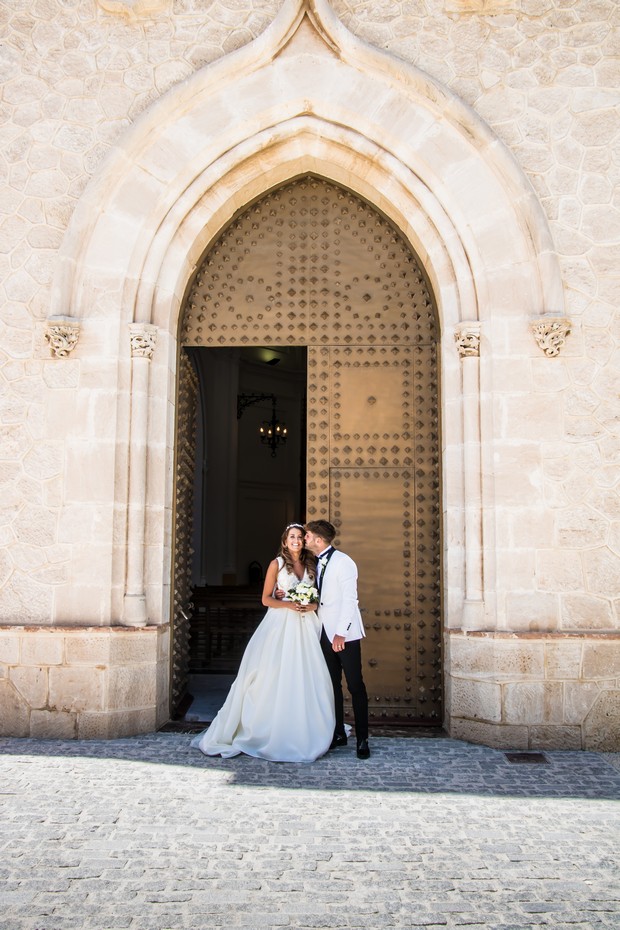 We chose our venue because… we have a villa on the complex of La Finca and have been to the hotel many times. It is a beautiful 5 star golf hotel with amazing grounds, picturesque views, outstanding staff and an extremely relaxing atmosphere. We knew the venue could accommodate our 100 guests who had all flown in from the UK to share our special day with us. The service was excellent, the staff were very professional and the attention to detail was amazing.
We chose our wedding coordinator because… Louise (Lyndyloo in Spain) was part of wedding package at La Finca. I knew exactly how I wanted the wedding day to be, and on meeting Louise I knew that she would be able to deliver my dream day. As the wedding was in Spain, Louise was invaluable in informing us of the correct documentation required for a wedding overseas. Louise was also very helpful throughout the year, she helped massively pull all the suppliers together including transportation, flowers, cake, photo booth, sweet cart, DJ and the live Irish band.
Our menu… was a 3 course meal which included mushroom soup for starter, a delicious chicken jus dinner or salmon with a cream sauce for main course and a chocolate soufflé for desert followed by tea and coffee. The children also had the choice of ice pops in the heat instead for dessert and we had the addition of a sweet cart which was popular with children and adults!!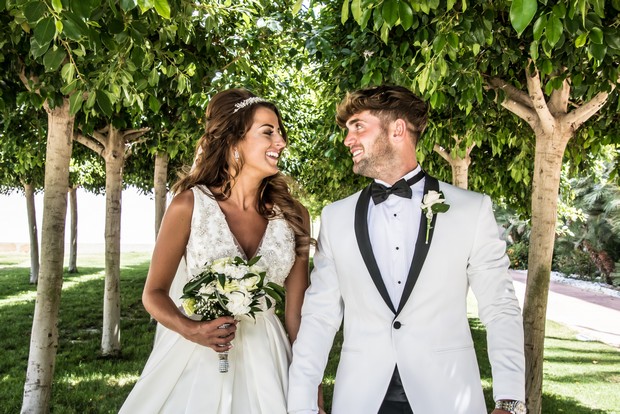 Our wedding theme/colours… I wanted to keep the wedding traditional, which included a Catholic church ceremony, canapés on arrival with champagne, a sit down 3 course meal followed by a live band and an evening reception. Having the wedding in Spain at a 5 star Golf Course, we chose the colours cream and green. Lewis and I wanted to create the perfect Spanish summer wedding. The venue was beautiful, secluded and private.
We chose our photographer because… when we were looking for a photographer within the package, we were offered a selection of different styles to choose from. When we came across Lauren, we looked through her website and previous photo albums and we liked her style of photos. When we met Lauren, she was very helpful and passionate about what she does so we knew she was right for both of us. On the day she looked after me, always making sure my dress was okay and that I was comfortable. Lauren was super professional and we couldn't be happier with our wedding pictures.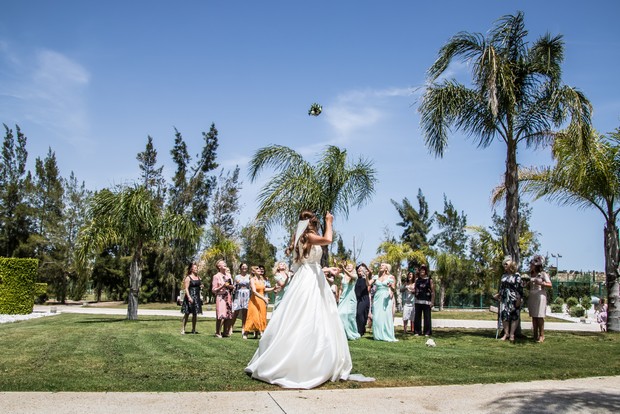 My favourite part of the wedding day… was walking down the aisle to see Lewis the love of my life, waiting there for me. The most special moment was entering the church to see all our family and friends who had travelled to Spain to see us get married.
My piece of advice for other couples… enjoy the day as much as you can and don't be afraid of choosing what you want for your big day. Plan well in advance.
The post A Traditional Sun-Filled Wedding by Lyndyloo in Spain appeared first on weddingsonline.