If you're after a fairy tale feel for your Big Day, a beautiful castle will tick all your boxes. Castle wedding venues are the stuff many wedding dreams are made of and for good reason – these stunning historic buildings have the wow factor in spades but still have that charming, cosy feel and you and your guests will feel like royalty to boot. We've no shortage of incredible castle wedding venues here in Ireland with all manner of gorgeous styles dotted across the country so today we've compiled a handy guide. Check out some beautiful Irish castles below…
Cabra Castle, Kingscourt, Co. Cavan
Guest capacity: 290 | View Profile
Cabra Castle is a family owned-and-run castle in Co. Cavan, situated on over 100 acres of beautiful gardens and forestry. The Castle's interiors are brimming with old world elegance and charm; think magnificent hallways, hidden nooks and crannies, hand-painted ceilings, Gothic-style leaded windows, exquisite antiques throughout and impressive Waterford Crystal chandeliers in the Ballroom. Renowned for exquisite food and fine wines, they guarantee an impeccable meal that your guests will never forget, in the perfect setting. Their Fairytale package starts from €75pp and they cater for just one wedding per day.
Belleek Castle Hotel, Ballina, Co. Mayo
Guest capacity: 200 | View Profile
Nestled in the forest, with the meandering River Moy a stone's throw away, Belleek Castle Hotel dates back to the early 1800's. Couples after an authentic castle experience will be blown away by the castle's medieval banqueting hall and award-winning food. As the team says: "If you want authenticity and somewhere filled with warmth and romance, a team who give 100% and dedication to your special day, you really have to come to Belleek Castle." The castle also offers trained tours of their onsite museum if you're looking to treat your guests to a unique experience!
Waterford Castle Hotel, The Island, Waterford
Guest capacity: 120 | View Profile
Waterford Castle is a luxurious 16th century castle situated on its own island on the River Suir. The stunning 310 acre estate is brimming with old world charm and and offers couples absolute privacy. The dedicated team are on hand to ensure all your needs are catered for, turning your wedding dreams into a reality. Waterford Castle offer numerous options to entertain you and your guests for up to three days and more – from an intimate rehearsal dinner, clay pigeon shooting, lawn games, golf and falconry, to a hog roast in the casual elegance of their King's Channel Clubhouse to round off your celebrations!
Use our Venue Finder to Find your Dream Wedding Venue!
Bellingham Castle, Castlebellingham, Louth
Guest capacity: 200 | View Profile
Set on 17 acres of mature woodlands and gardens, Bellingham Castle is a 17th century castle bursting with character and charm. Located in the heart of the medieval village of Castlebellingham, this exclusive use venue is just 45 minutes from Dublin. Bellingham take pride in their exclusive homely setting and attention to detail, with 100% dedication provided by their team from start to finish. Packages start from €95pp midweek and weddings are as gorgeous in summer when the sun is shining and guests are wandering the grounds as they are in winter when the candles, fires and mulled wine create a cosy setting.
Castle Durrow, Durrow, Co. Laois
View Profile
The luxurious and eclectic Castle Durrow can be found in Co. Laois and is set on 50 acres of manicured gardens with its own river running through it. The interiors are just as impressive as the gorgeous grounds and facade with 15ft high ceilings, velvet appliqued handmade curtains and antiques and modern pieces throughout adding to the opulent and stylish feel. The beautiful banqueting hall is a dream backdrop with hand painted silk panels, shimmering chandeliers and large private terrace.
Ballyseede Castle Hotel, Tralee, Kerry
Guest capacity: 220 | View Profile
The beautiful Ballyseede Castle Hotel is an exclusive family owned castle in Co. Kerry. Set on 30 acres of ancient woodlands and manicured gardens, it offers couples old world elegance with modern day comforts. Renowned for its warm welcome (you can't but be enamoured by Irish Wolfhound Mr Higgins and friends), first class food and luxurious accommodation, it has everything you need for the perfect day. Kick start the celebrations in one of the beautifully decorated formal lounges, or the newly-built Orangery before dining and dancing in the magnificent ballroom.
Use our Venue Finder to Find your Dream Wedding Venue!
Markree Castle, Collooney, Co. Sligo
Guest capacity: 200 | View Profile
The romantic Markree Castle is set in the heart of the Sligo countryside, on the banks of the river Unshin. This exclusive use castle boasts stunning Gothic architecture with vaulted ceilings, striking arches and handcrafted and painted cornicing – it also has its own original Victorian Gothic chapel with beautiful stained glass windows. Couples can look forward to having the run of the castle as their own home for the day with a drinks reception in the hall in front of the fire, dinner in the chandelier lined dining room and dancing in the lounge on the specially constructed dance floor.
Kilronan Castle, Ballyfarnon, Roscommon
Guest capacity: 320 | View Profile
The beautiful Kilronan Castle is located on the shores of Lough Meelagh in Co. Roscommon. Set on a sprawling 49-acre estate, the historic 19th century castle is steeped in history and seamlessly blends contemporary luxuries with a touch of old-style glamour. Summer weddings can enjoy pink champagne on the patio taking in the gorgeous surroundings or can avail of the Dungeon Bar in winter months where roaring fires and candle light adds to the romantic ambiance. A candle lit corridor leads you to the Grand Ballroom with its opulent decor and magnificent chandeliers.
Clontarf Castle, Clontarf, Dublin
Guest capacity: 400 | View Profile
The impressive Clontarf Castle was awarded Castle Venue of the Year at this year's weddingsonline awards! Just a short distance from Dublin City centre, this 12th century castle is an eclectic mix of old and new. Steeped in history, it has retained many of its original features including stained glass windows, dramatic high ceilings and the beautiful original staircase but a recent refurbishment has brought it in to the 21st century with modern luxuries and facilities. The castle is also home to dedicated art galleries, landscaped gardens and a romantic outdoor terrace – ideal for memorable wedding photographs.
Use our Venue Finder to Find your Dream Wedding Venue!
Castle Leslie Estate, Glaslough, Monaghan
Guest capacity: 260 | View Profile
Castle Leslie is a magical private estate in Monaghan surrounded by ancient woodlands and glittering lakes. The Castle which is at the heart of the Estate is still in the hands of its founding family and is steeped in history and brimming with character, offering authentic original interiors and old-style hospitality. You and up to 70 guests can enjoy the old world grandeur of the castle itself for your celebrations or for larger parties up to 260, the Pavilion at Castle Leslie Estate is a charming space overlooking Glaslough Lake.
Darver Castle, Dundalk, Co. Louth
Guest capacity: 280 | View Profile
Situated on 50 acres of beautiful parkland in the rolling countryside of Co. Louth, Darver Castle is brimming with old-world elegance. The 15th century castle has been lovingly restored by the Carville family and can be yours in its entirety for your wedding day. Couples can exchange vows in the beautiful ceremony room in the castle's courtyard before retiring to the magnificent banqueting suite Brabazon Hall which boasts stone cut walls, beamed ceilings and can cater for up to 280 guests.
Lough Rynn Castle Hotel, Mohill, Leitrim
Guest capacity: 320 | View Profile
Located on the shores of Lough Rynn, this lovingly restored 19th century castle is stunning setting for weddings. Lough Rynn Castle is steeped in history and is the perfect blend of old-world elegance and modern luxury. Its breathtaking scenery, ancient forests and 300 acres of historical grounds provide the perfect backdrop for photos while inside, the stylish interiors will ensure you and guests feel like royalty. Their Grand Ballroom can host up to 320 guests with creative menus and impeccable service guaranteed.
Use our Venue Finder to Find your Dream Wedding Venue!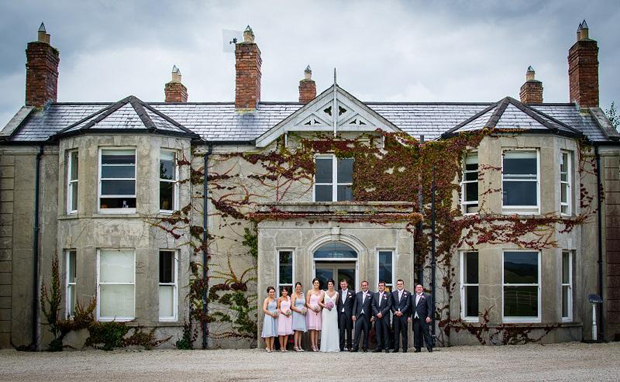 Castle Dargan, Ballygawley, Sligo
Guest capacity: 300 | View Profile
Set within the confines of a stunning 170 acre estate with fresh water brooks and rolling hills, the 4 star Castle Dargan dates back to the 18th century. Couples can look forward to toasting their guests with an intimate champagne or wine reception in the elegant Coach House Lounge before retiring to the beautifully appointed banqueting suite, the Ormsby Room which boasts floor to ceiling windows with beautiful panoramic views of the countryside and golf course. The castle has a one wedding per day policy and prides itself on its excellent service, mouth-watering cuisine and warm, friendly atmosphere.
Barberstown Castle, Straffan, Co. Kildare
Guest capacity: 280 | View Profile
Located just 30 minutes from Dublin city and Dublin airport, the elegant and historic Barberstown Castle can be found in Straffan, Co. Kildare. The castle originally dates back to 1288 and the beautiful medieval decor reflects this – high ceilings, impressive tapestries, cast iron chandeliers and exposed wooden beams and stone walls bring an old-world feel to the striking banqueting hall. Barberstown believe every wedding is unique and are delighted to create bespoke wedding celebrations, tailored to each couples' individual requirements.
Photo by Mark Doyle Photography
Cloghan Castle, Loughrea, Galway
Guest capacity: 120 | View Profile

Located in Co. Galway with breathtaking panoramic views of the Slieve Aughty Mountains, Cloghan Castle is the perfect combination of old world charm and modern comforts. Renovated from the 13th century ruins of a fortified Norman keep, this medieval style castle with its ornamental stonework and imposing four storey tower is available on an exclusive basis – you can choose from one of their expertly crafted bespoke wedding packages for minimum planning or secure the castle hire and plan all the elements of your perfect day yourself.
Use our Venue Finder to Find your Dream Wedding Venue!
Kilkea Castle, Kilkea, Castledermot, Co. Kildare
Guest capacity: 280 | View Profile
Just an hour's drive from Dublin, the enchanting Kilkea Castle is located in Castledermot, Co. Kildare. Set on 180 acres of woodlands and gardens, this beautiful 12th century castle blends its historic past with contemporary elegance. Once the medieval stronghold of the FitzGerald's, Earls of Kildare, you can now enjoy the castle in its entirety for your Big Day including 11 decadent bedrooms, your very own cosy castle bar, a beautifully appointed drawing room and the magnificent Baronial Hall which boasts elegant chandeliers and traditional feature stone wall.
Lough Eske Castle – A Solis Hotel & Spa, Donegal Town
Guest capacity: 280 | View Profile
Lough Eske Castle is a 5 star castle hotel located on a secluded lakeside estate just outside Donegal town. It has a rich history dating back to the 1400s but today is the epitome of luxury. The traditional style ballroom with contemporary twist can host up to 280 guests and extends into your own exclusive tranquil gardens – the perfect backdrop for wedding pics. Couples can also make the most of the specially commissioned artworks dotted throughout the grounds for a unique backdrop! The castle pride themselves on their tailor made approach to weddings, providing a totally personalised service.
Use our Venue Finder to Find your Dream Wedding Venue!
Luttrellstown Castle, Castleknock, Dublin 15
Guest capacity: 180 | View Profile
Luttrellstown Castle is an exclusive castle venue in Dublin that can host up to 180 guests. Couples can look forward to creating their bespoke day, tailored to their individual needs. This historic castle is sure to impress from its majestic facade and idyllic walled gardens to the sumptuous interiors. The castle is brimming with character from the cosy library with its old world charm to its magnificent ballrooms with period features – the Van Stry ballroom accommodates up to 120 guests whilst the Kentian accommodates an additional 60 guests.
Photo by Emma Russell Photography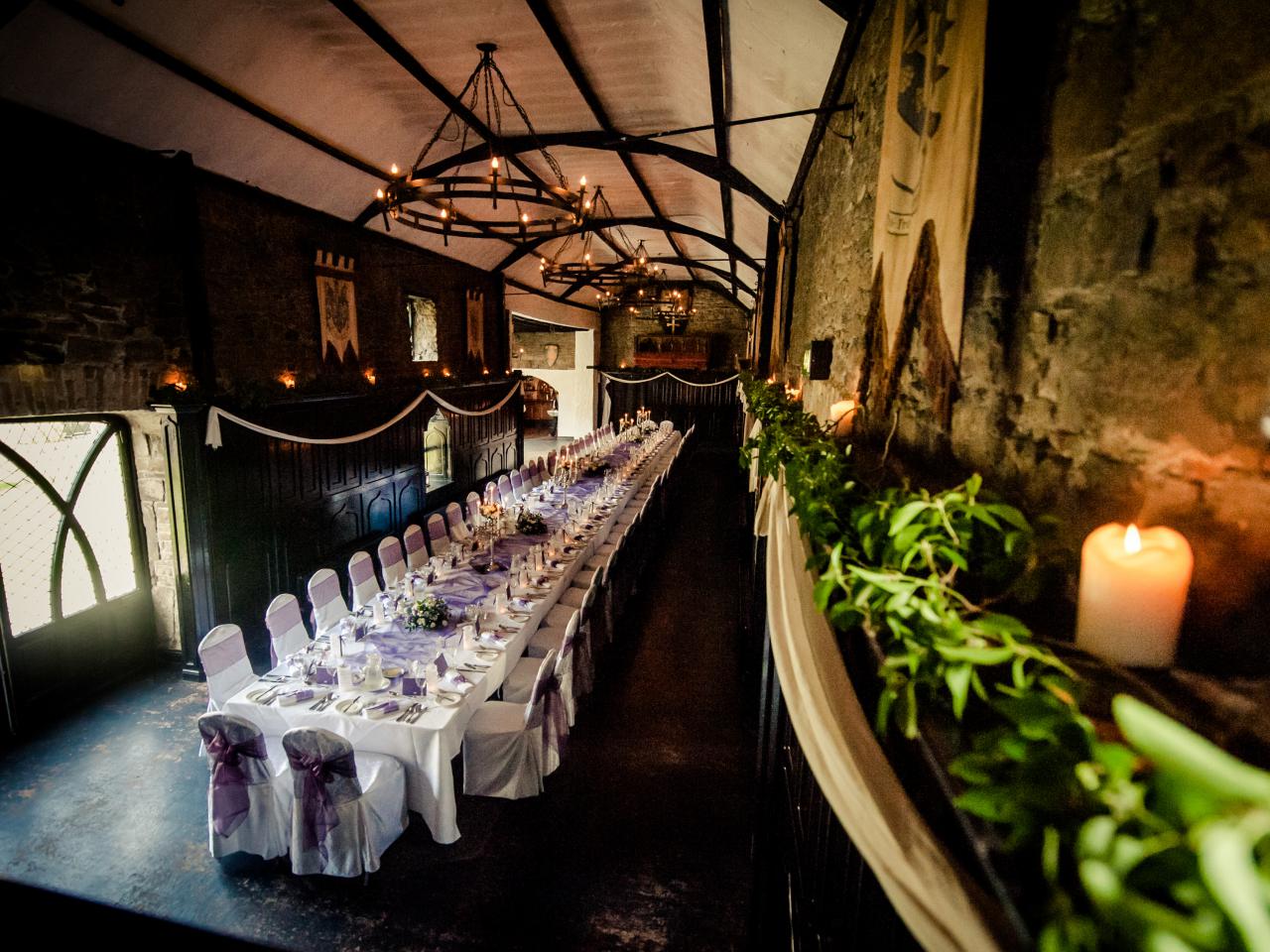 Kinnitty Castle, Birr, Co. Offaly
Guest capacity: 200 | View Profile
Located in the pretty village of Kinnitty in Co. Offaly, Kinnitty Castle Hotel is a lavish Gothic revival castle dating back to the 13th century. Nestled in the foothills of the Slieve Bloom Mountains, with 650 acres of parkland, the castle is a dream setting. It's also bursting with character from the 37 distinctly styled bedrooms to the ballroom itself. Guests will feel like they've stepped back in time in the incredible medieval styled 'Great Hall of the O'Carroll's' banqueting suite with its striking original features and heritage décor.
Fitzpatrick Castle Hotel, Killiney, Dublin
Guest capacity: 300 | View Profile
Located in the lovely leafy suburb of Killiney in Dublin, the family owned Fitzpatrick Castle Hotel is surrounded by the impressive Killiney Hill woodland and overlooks the sparkling Dublin Bay. The 18th century castle has a striking white-tipped exterior while inside classic yet luxurious interiors transport you to times past with deep wood furnishings and tapestries, elegant fireplaces, sparkling chandeliers and silver candelabras throughout. The castle hotel has been perfecting weddings for over 40 years so you're in great hands.
Durhamstown Castle & Barn, Bohermeen, Meath
Guest capacity: 150 | View Profile
This eclectic exclusive venue dates back to 1420 and boasts lots of beautiful original features as well as a mix of auction finds and family heirlooms. Smaller weddings can look forward to celebrating in Durhamstown Castle itself – the dining room can host up to 30 guests (it's also perfect for a family rehearsal dinner the night before). Larger celebrations take place in the 18th century great barn which has a beautiful stone façade, exposed beams and pretty festival lights, creating a romantic ambiance. It can be divided in to dining, dancing and a relaxing area for smaller wedding parties.
Use our Venue Finder to Find your Dream Wedding Venue!
The post 21 Fairy Tale Castle Wedding Venues in Ireland appeared first on weddingsonline.